Built on Strong Science and Service
In 1989, Alan McCann and Omprakash (Om) Sukhrani amalgamated McCann & Associates and Omni Engineering to form Omni-McCann Consultants Ltd. (OMCL), an applied earth sciences, engineering and materials testing company operating out of South Edmonton. With complementary expertise and extensive experience in groundwater/engineering geology and geotechnical/materials engineering, they built a strong reputation for comprehensive geoprofessional services and sound professional advice.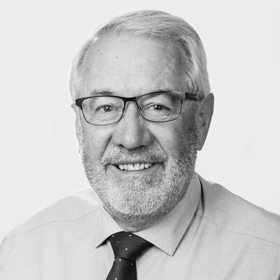 Alan, a groundwater/engineering geologist, brought 20 years of geological, geotechnical and groundwater experience in Ireland and Canada as well as leadership positions at EPEC Consulting and McCann & Associates, to grow the company's expertise in solid waste systems planning, investigation, design and implementation.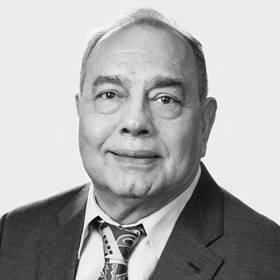 Om integrated his expertise in geotechnical and civil engineering to advise clients on projects ranging from concrete testing and asphalt reconstruction to underground utility installation, and building design and development. Om was also instrumental in establishing OMCL's materials testing laboratory facilities.
Having established a range of field and lab capabilities, the company became well equipped to sample, test and monitor water quality, landfill gas and landfill leachate, as well as conduct site surveys, measure soil compaction and oversee the quality assurance for geotextiles, leachate collection systems together with compacted clay and geosynthetic liners. Over the next 30 years, OMCL established a considerable list of long-standing monitoring contracts and repeat customers, a testament to OMCL's employees who dedicated themselves to ensuring they met the highest standards of integrity and client service.
A National Partnership
In 2019, OMCL was acquired by Concentric Geoscience, a geo-environmental services firm operating in Canada's Central, Prairie and Northern regions. OMCL was renamed Omni-McCann Geoscience and remained independent but along with its new co-owned affiliate, formed a national partnership called the Omni Earth and Environment Group. As partners, the firms offered their combined suite of services to meet the important needs of existing customers while also exploring new opportunities and service areas in all regions of operation.
A New Era – The Same Commitment
On April 1st, 2022, Omni-McCann Geoscience and Concentric Geoscience amalgamated as Omni-McCann Inc. The amalgamation allows for a more coordinated, broader service portfolio, combining Concentric Geoscience's environmental due diligence services with Omni-McCann's extensive waste management experience and complementary applied earth science expertise in terrain analysis, hydrogeology, civil and geotechnical engineering.
While the company is now more integrated nationally, it remains committed to offering the same comprehensive geoprofessional offerings and innovative, personalized service that its clients have come to expect on a local scale.